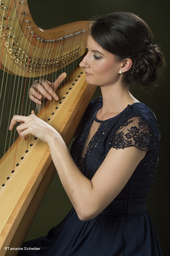 Swiss-born harpist Diane Pauvert is a versatile musician whose broad interests beyond performance of classical repertoire lead her to collaborate with special formations as wind orchestras, musical theatre ensembles and several choral groups.
As a soloist, Diane was featured performer at the International Rio Harp Festival (Brazil), at the Schubertiade, at the HarpMasters Festspiele, at the X-Advent Brig (Switzerland), at the Stagione Concertistica di Brescia (Italy), at the Moscow International Harp Festival (Russia). She appreared as soloist with Orchestre de Chambre de la Broye in November 2016 and has played with Wallis Symphonic Orchestra, La Concordia, Harmonie Lausannoise, Schweizerische Jugend-symphonieorchester and recently with United Nations Orchestra.
Diane's interest for pedagogy lead her in 2013 to establish "l'Ecole de la Harpe" in Switzerland. She was invited to be a member of Jury at the 2017 Rubin Competition that was held in Moscow.
Her most recent project dedicated to research in evolution of Spanish music in general and role of the harp in Spanish culture in particulary, lead to discovery of unknown harp repertoire.
Since 2016 Diane Pauvert is member of the Committee of the Swiss Harp Association. Since 2017 she is vice-chairwoman of the Swiss Society of musical pedagogy (canton Vaud).
Diane Pauvert holds a Bachelor and a Master of Arts degree of the 'Haute Ecole de Musique' in Lausanne (Switzerland) and is currently completing the Advanced Diploma in Performance at the Civica Scuola di Musica di Milano Claudio Abbado (Italy). Her teachers include Chantal Mathieu, Letizia Belmondo, Irina Zingg.
Diane is a member of HarpMasters Academy since 2010 where she studied with Milda Agazarian, Skaila Kanga, Karen Vaughan, Mara Galassi, Isabelle Perrin, Park Stickney, Fabrice Pierre, Petra van der Heide, Marie-Claire Jamet, Gabriella Dall' Olio.